It's Your Turn To Take Full Control Of
Your Mind and Your Life
Now here's where the rubber meets the road as they say.
Whether you want to achieve personal, professional, career, relationship, health, athletic or financial goals… or any goals for that matter – your mind needs to be working at its full potential.
The Daily Mind Training Program is (by far) the most thorough and practical program to bring your mind and body into complete harmony, while tapping the unlimited potential of your intuition, emotional intelligence and unconscious mind.
I developed it after years of in-the-field application with clients and students, and I tested everything in this program in the real world.
You can now have the secrets I shared with only a few students of mine, but because of the incredible transformations I've seen, I want as many people to try this program as possible because I am absolutely certain it will do wonders for you too.
That's why I'm offering a no-obligation 14 Day FREE Trial.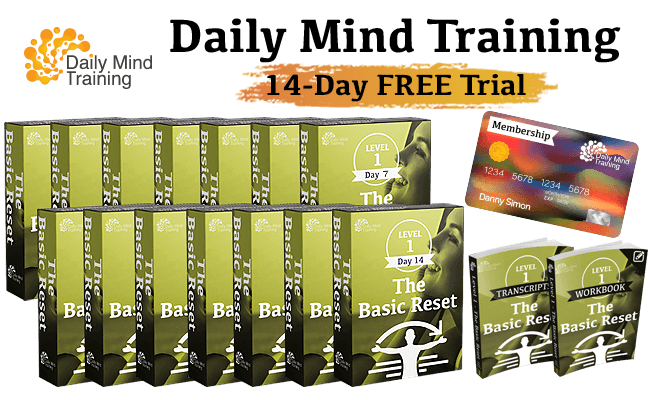 And if you decide you want to continue (and I'm VERY sure you will) then your investment will be $49.95 only $24.95 a month!
Which is a TOTAL NO-Brainer for 10+ hours of cutting-edge mind training every month!
Of course you can cancel the trial at any time during the first 14 days without being billed.
And you can cancel the program whenever you like after that too and not be billed any further months.
You are never under any obligation to continue the training!
And you're doubly protected because of the …